Rental of pitches in Bidart
3 types of Bidart caravan pitches
The camping Ur-Onea in the Basque Country, has 123 pitches that make happy among the nature lovers and the followers of the traditional caravanning. The plots are between 80 and 120 m2, and are divided into three different ranges: "standard", "comfort" and "great comfort".
The parcels " standard " are arranged to accommodate tents. They are not connected to the estate's electricity supply. Campers can, however, access the sanitary facilities.
The "comfort" pitches " have a 10 A electrical connection. Campers must provide a 25 m extension cord and a European plug. These grassy pitches are in any case designed to accommodate motorhomes and caravans.
The same vehicles can also find their place on the different "comfort" pitches of the campsite. These plots are ideal for motorhomes and are connected to a 10 A electrical connection, but also have a water connection and a sewage disposal system.
Please note that the size of a pitch does not depend on the category to which it belongs. You can choose between lightly or semi-shaded plots. In addition, you can add one or two additional additional tents. You will be asked for several details about your location when you make your reservation, including the exact dimensions of the main installation and the additional installation.
The Basque campsite provides holidaymakers with three sanitary blocks distributed throughout the area. Entirely renovated, these facilities are clean and functional.
The campers are entitled to hot water and drinking water and to drinking water. The sanitary facilities include showers and washbasins in cabins, but also baby cabins with bathtub, cabins for disabled persons and showers for dogs.
Welcome to outdoor enthusiasts for nature-friendly pleasures.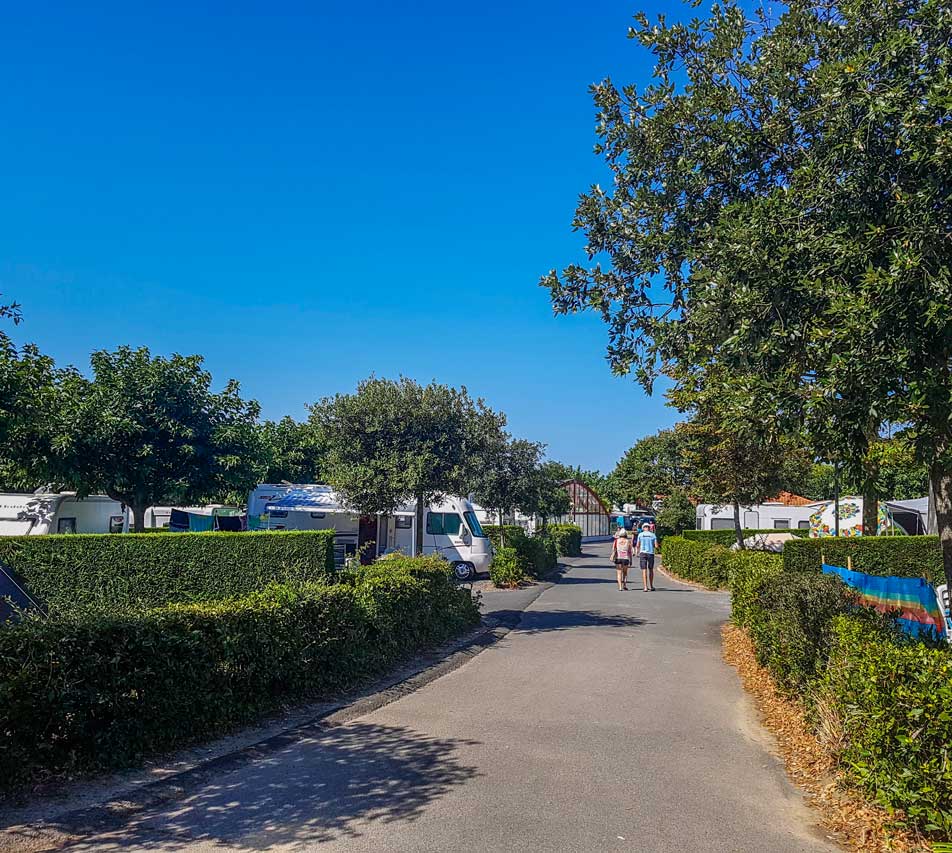 Nature camping vacations in Bidart
Despite the boom in luxury accommodation in outdoor hotels, traditional camping still has its followers. And for good reason, a night in a tent, caravan or camper wakes up the adventurer and the child in us. Would you like to try the experience ? Spend one or more nights in a camping tent in the Basque Country at the best price in a spacious and comfortable pitch with or without electricity as a couple, with family or with friends ? The 3 star campsite Ur-Onea in Bidart reserves you an unforgettable purist adventure in contact with nature in the Basque Country, close to the Atlantic Ocean and preserves the traditional camping spirit with a majority of bare pitches.
Need a cheap camping tent, a bidart camper van area, stay in a camping biarritz tent, or cross the Basque coast in a camper van ? Book for that a free pitch at the Ur-Onea campsite!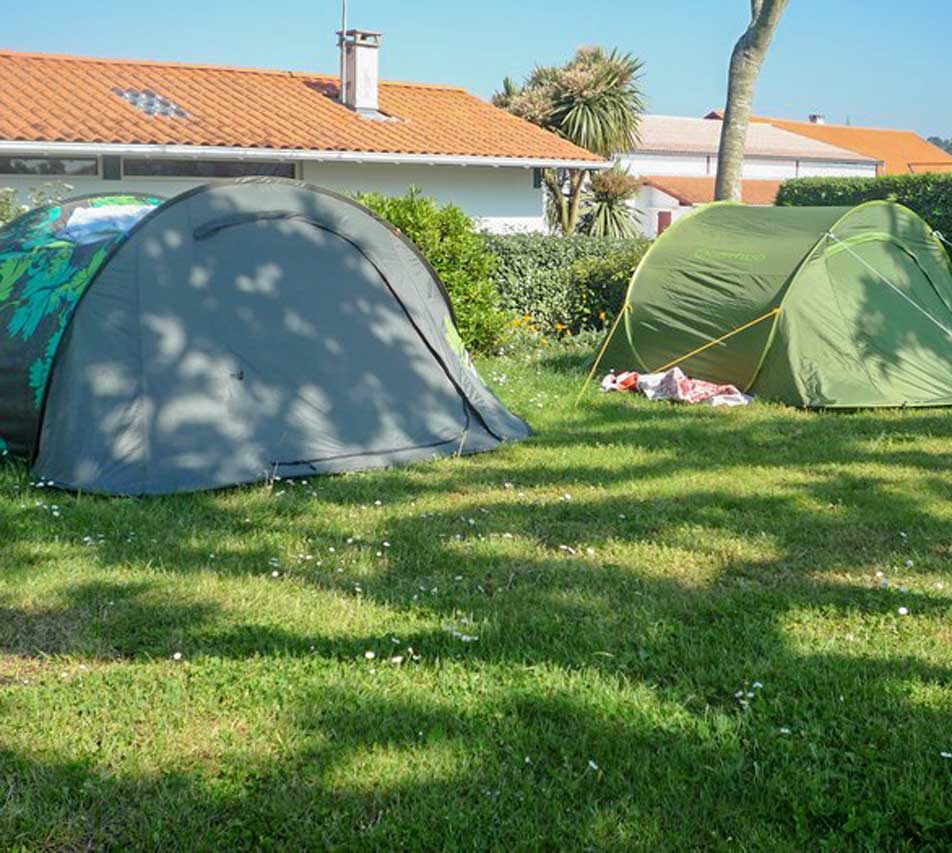 Standard location
Waking up slowly to the bird song and to the daylight. Open your tent and walk on the fresh grass.
Admire the green frame and preserved surrounding us. Watch the first holidaymakers walking in the tree-lined avenues and flower beds of a family campsite with a friendly atmosphere.
Unfold your table in your private garden to have breakfast while planning your day's activities.
And this, of course, at a low price and in complete privacy thanks to the plant borders that delimit our vast 80 m² land. Do you want to experience all these little pleasures as soon as you get up during your next stay in the Basque Country ?
Book now your standard pitch at camping Ur-Onea.
No question of wearing a watch. It would be useless, because time is suspended here. The time of your vacations or more, if affinity.
Comfort, privacy, tranquility, perfect integration in the environment, preserved natural surroundings, warm atmosphere, quality facilities, proximity to the beach, excellent quality/price ratio: our standard pitches have everything to seduce you and your wallet.
Good to know: Wi-Fi is available at an additional cost throughout the campsite and pets are accepted under conditions.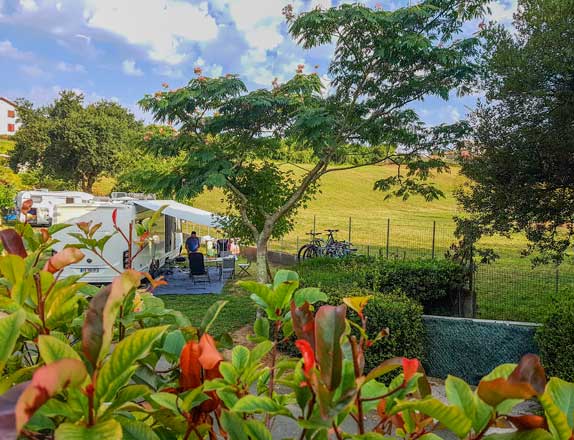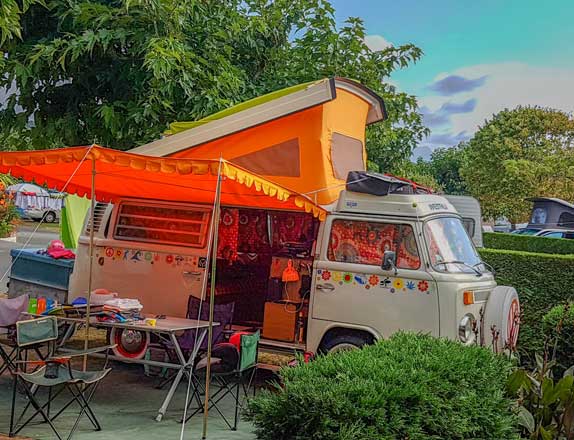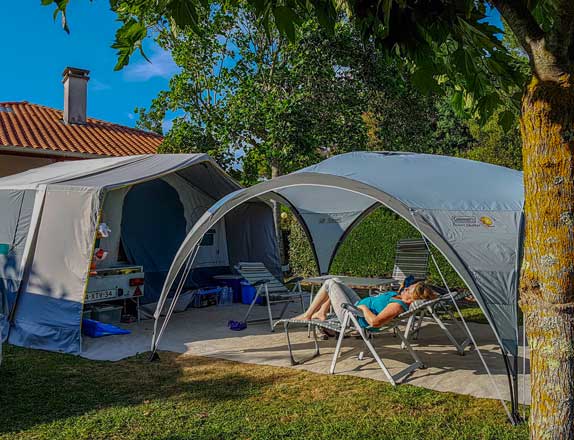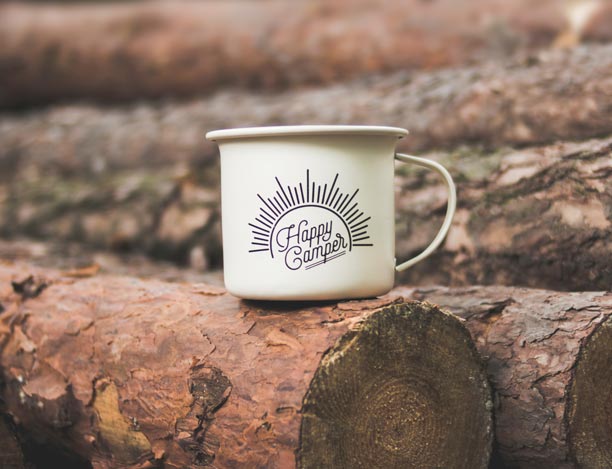 Comfort location
You like the contact with nature and the conviviality of the campsites, but you want a minimum of comfort during your stay. For example electrical outlets to plug in your coffee maker and refrigerator, as well as an aquatic area with a heated and covered swimming pool. And why not, a jacuzzi to relax after your surf lesson on a sandy beach a few hundred meters from the campsite. And of course, at a reasonable price according to your budget.
Good news : the 3 star campsite in Bidart has anticipated your needs to better satisfy your expectations. Our comfort pitches of 80 m² are equipped with 10A electricity plugs to guarantee you a purist experience 100% comfort.
From your own private garden, in the sun or in the shade of the big trees, you can watch your children running in the flowered alleyways of the campsite and spend a lot of energy without counting. You will be able to have your meals outside and share pleasant moments with your family and friends, thanks to the natural hedges that preserve the privacy of our guests. All the pitches are located near the sanitary blocks and other facilities of the campsite.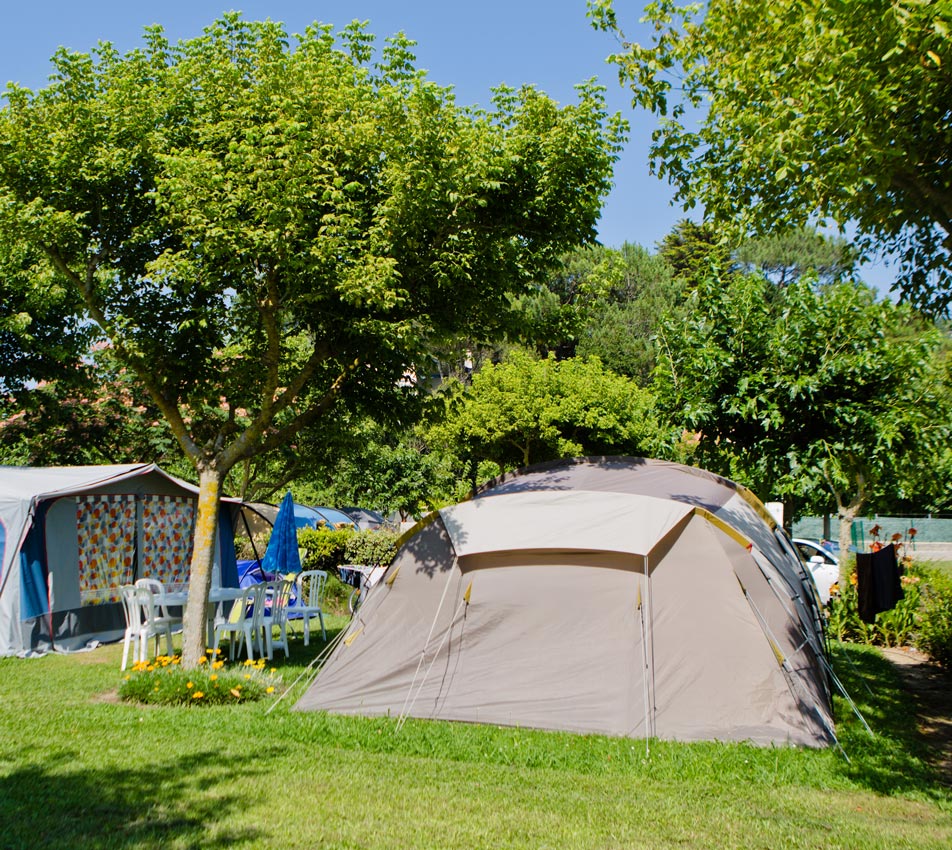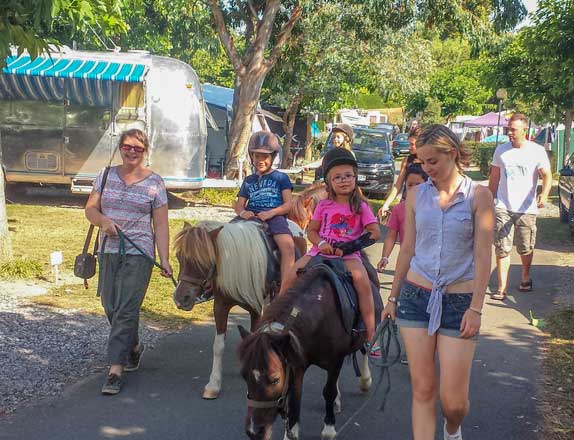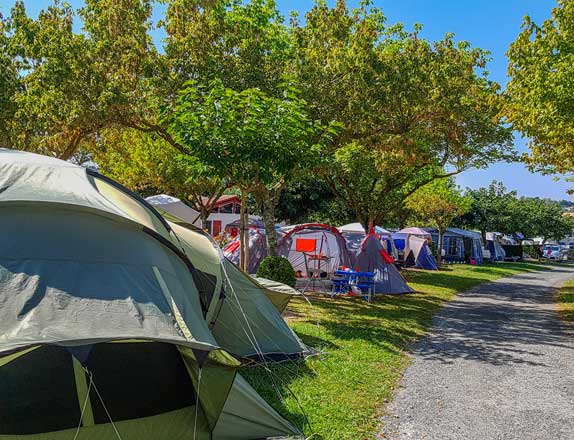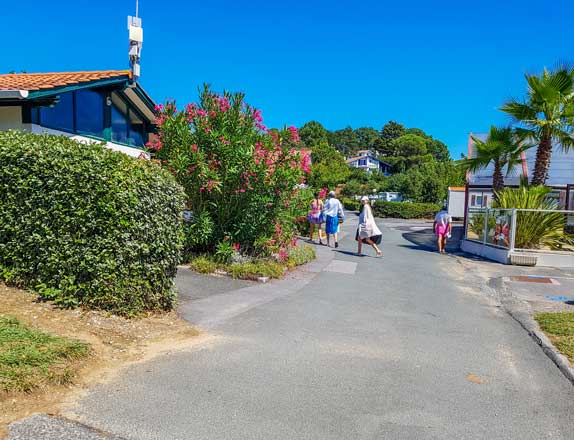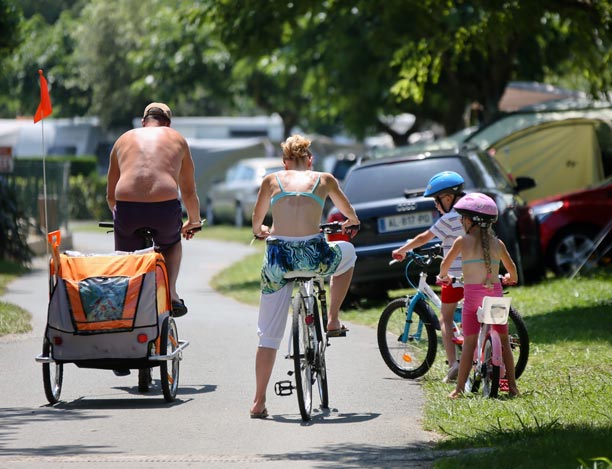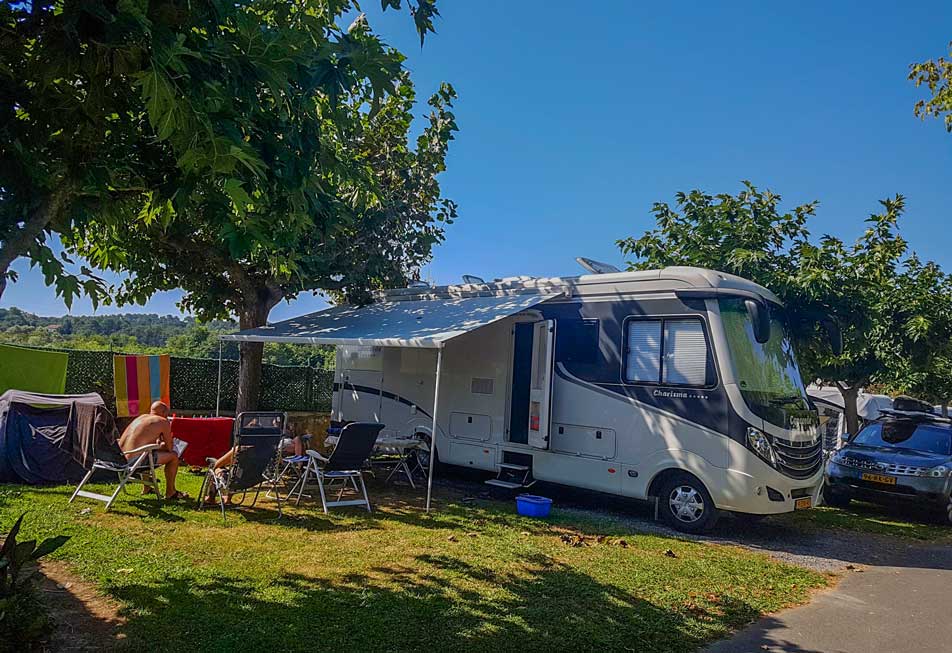 Comfortable location
The traditional camping, yes, but in luxury fashion. This is your first wish? At camping Ur-Onea, your desires are orders. For our customers, the most demanding camper van drivers, who are looking for both the friendliness of an open-air hotel and a plot adapted to their specific needs, we have exceptional pitches of up to 120 m².
On our comfortable pitches, you will find at your disposal electrical connections (10A plugs), a water connection and a waste water evacuation system. All in all, everything you can expect from a camper van site with a stabilized stone part.
And what about nature in all this ? As standard pitches and comfort, the high comfort pitches are covered with natural grass and blend in perfectly with the environment. Thanks in large part to the natural grass that surrounds each plot and preserves the privacy of the campers without breaking with nature. At any time of the day, you will have both shady and sunny areas at your disposal. On foot or by bike, it will only take you a few minutes to reach the beach and the center town of Bidart.
Find our camping accommodations