Bidart mobile home rental
Welcome to our quality accommodation and our bungalow rentals in the Basque Country
Are you looking for a mobile home rental in the Basque Country for your camping vacations?
At camping Bidart, the mobile home rental Pays Basque will be the perfect alternative for you and your family during your stay in the South-West of France.
For your vacations in our campsite in the Basque Country, several offers are available: you can rent a mobile home among our 27 mobile homes, from 2 to 3 bedrooms, or rent one of our typical Basque chalets.
Our rentals are very comfortable with a large pitch and a parking space. Perfectly furnished, they are composed of a fully equipped kitchen area (hob, fridge, dishes, …); a living room with television except for the Azurs for rent; a bathroom and a terrace with garden furniture paved or semi-covered integrated or covered by a pergola depending on the models.
Towels and sheets are not provided (one blanket and pillow per bed are available) but disposable sheets are available for rent.
In order to respect all our tenants and to guarantee the safety of the holidaymakers, the rents are non-smoking and the animals are not allowed.
Would you like to spend a romantic weekend, a few days getaway or a stay to discover the the riches of the Basque Country? Choose your mobile home.
Mobile home Azur Special Couple

1

2

Mobil-home Océane Spécial Couple

1

2

Mobile home Iris Special Couple

1

2

Dream Cottage Couple Special

1

2

2

4

2

4

2

4/5
Rent mobil-home from 24 to 38 m² in Bidart
Want to go from vacation luxury to low price in the Basque Country at less than one km from the Atlantic coast? The campsite Ur-Onea in Bidart presents you its selection of mobil-homes rental Basque Country of prestige comfortable and fully equipped mobile homes which are suitable for all holidaymakers and all budgets. Enjoy your vacations in a mobile home during your stay in a campsite on the edge of the Atlantic Ocean.
From the compact mobile-home and economical 2 bedrooms of 24 m² to the large mobile home of 38 m² for 6 persons ideal for large families and groups of friends or families loving XXL comfort through the beautiful intimate chalets designed for couples or family, take the time to book the standard accommodation that suits you for your next stay by the sea in the Basque Country.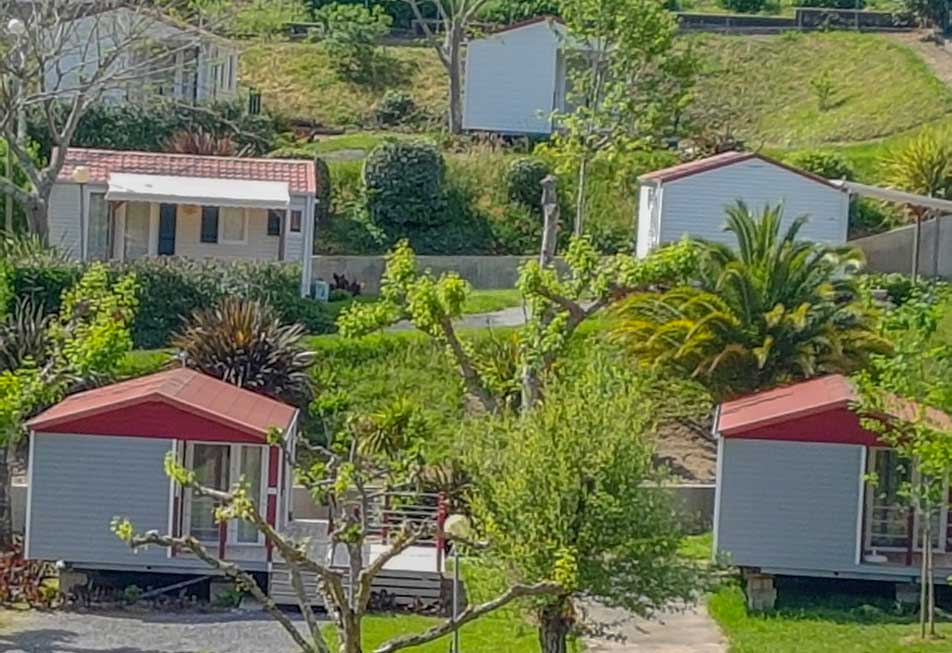 Mobile homes with terrace in Bidart
The Basque Country, like the whole of Southwest France, attracts visitors for its natural spaces and its good sunshine. So that you can sunbathe and relax every day under the Basque sunshine, we have equipped all our Bidart Premium mobile homes with a vast private terrace with garden furniture. Enjoy your family vacations in one of our vacation rentals whether it is one of our bungalows or in a mobile home with a covered terrace, equipped kitchen and wooden terrace that can accommodate people with reduced mobility.
Our well oriented terraces overlook the wooded area and the natural hedges that delimit each plot, offering all our guests greater privacy. Breakfast while listening to the birds singing, lunch with the family, a well-deserved nap after a surfing course or a bike ride, aperitif at dusk : you will enjoy the comfort of your private terrace at any time of the day, a comfort that will help you reconnect with nature and disconnect from everyday life the time of your stay in the Pyrénées-Atlantiques.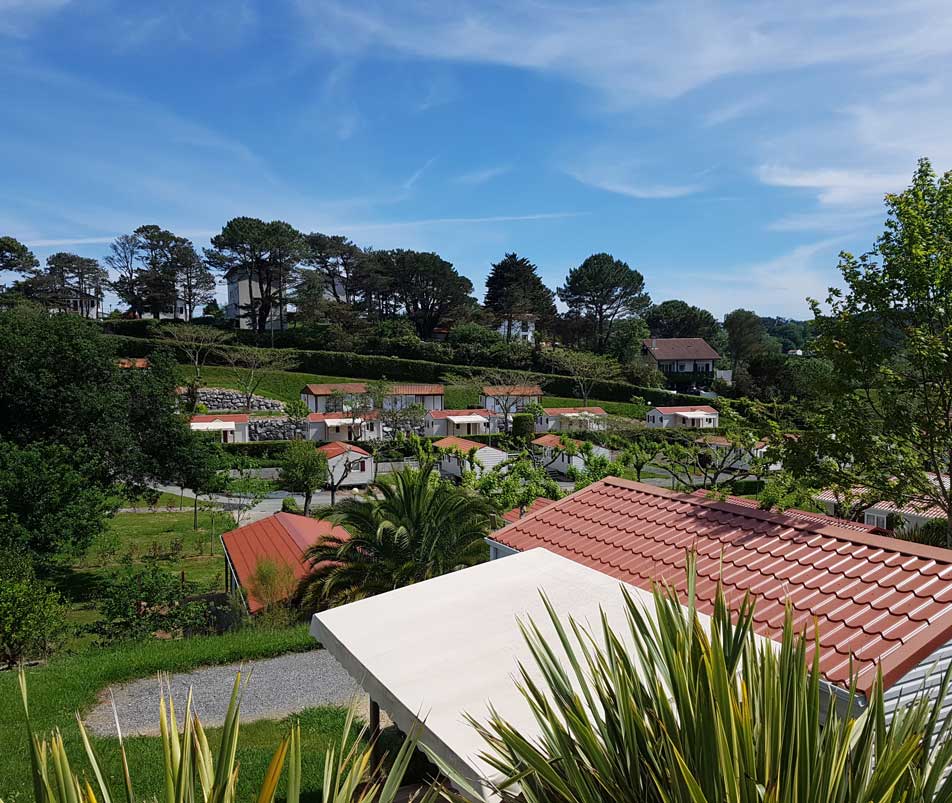 Comfortable mobile home in Bidart
Camping Ur-Onea offers several models of comfortable and well-equipped mobile homes. The three-star establishment also applies interesting promotions to help you better control your budget.
The Special offers on mobile homes
These reductions apply to all mobile homes available at the campsite:
Special offer for couple : 20 € discount per week from April 3rd until 26/06 on Azur, Océane, Iris and the chalet models.
Discount of 50 € for any stay of 2 weeks
Discount of 200 € for any stay of 3 weeks
One special price solo
Special fortnights to be enjoyed before the others at the very beginning of summer from the 19/06
Now let's take as an example three of the mobile homes you can choose from:
Mobil-home Azur
With a surface area of 24 m², the Azur mobile home has two bedrooms, one of which has a double bed, and can accommodate four people (two adults and two children under the age of ten). Campers are entitled to a fully equipped kitchen, a bathroom and separate toilet, as well as a terrace and garden furniture with parasol. It is the ideal model for a couple.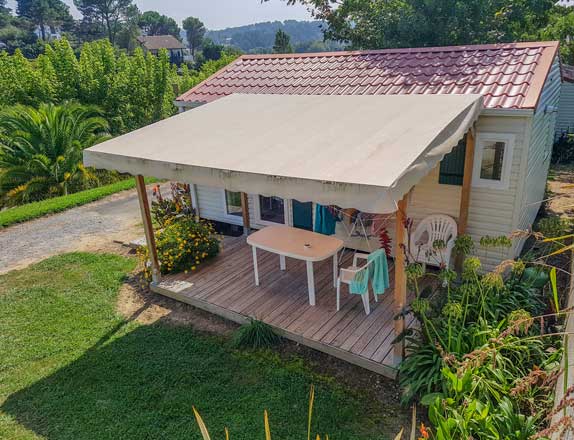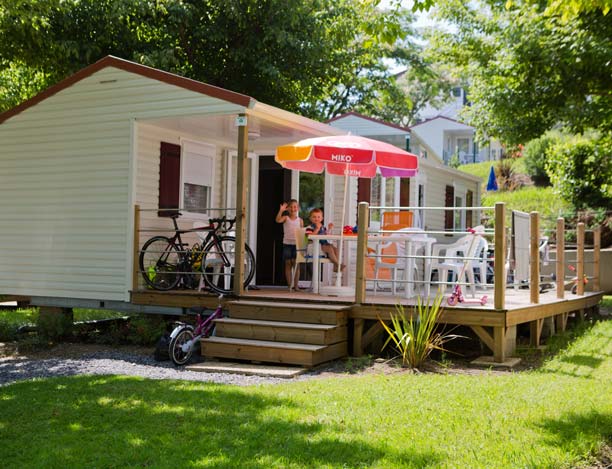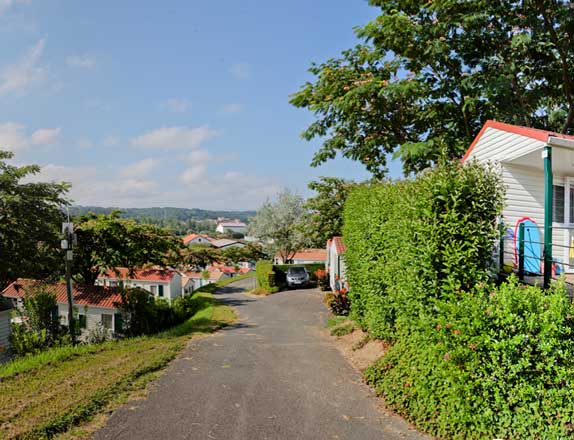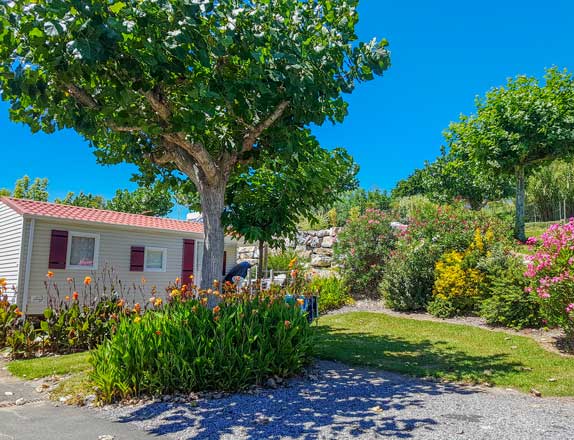 Mobil-home Iris
With a surface area of 32 m2, the mobile home Iris also has two bedrooms, one of which has a double bed 160, and can accommodate four people. The latter also have access to a fully equipped kitchen and bathroom, a terrace, garden furniture.
Mobil-home Marina Grand Confort, the Great Outdoor Comfort
With a surface area of 38 m2, the Marina mobile home can accommodate six people, including four adults and two children under the age of sixteen. The accommodation has three separate bedrooms, one of which has a double bed 160. The campers will also enjoy a fully equipped kitchen : hot and cold water, fridge-freezer, extractor hood, ceramic hob, microwave oven, dishwasher… In addition, there is a bathroom with hot water, shower, sink and independent toilet. The terrace and the garden furniture are also part of the comfort elements of the mobile home.
The Great Outdoor Comfort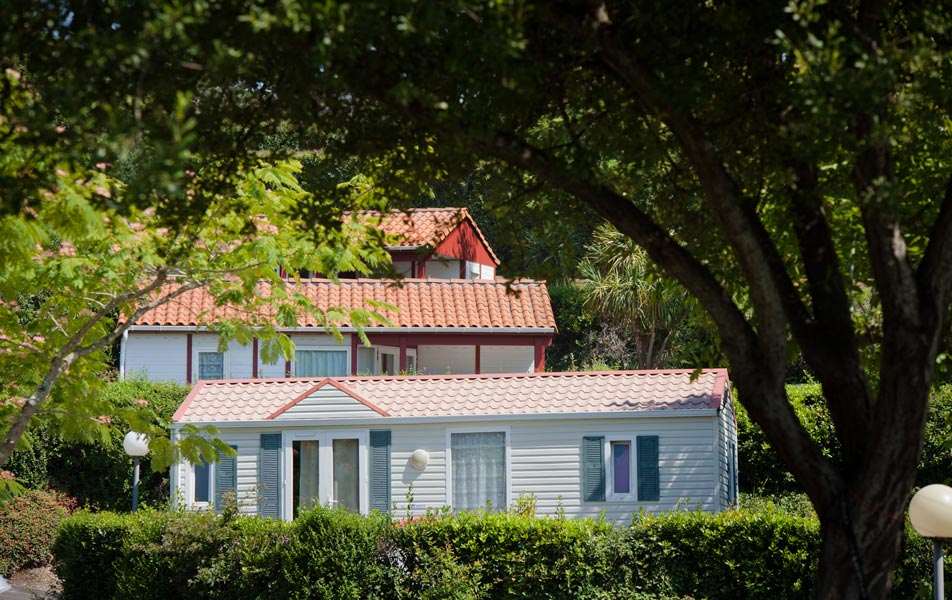 Bidart mobile home rental rates
For mobile-home rental in the Basque Country, see all our rates.
Weekly rates from Saturday at 5pm to Saturday at 10am, except in low season where the rentals can be rented for 2 or 3 nights minimum depending on availability and periods or for 8, 9 and 10 nights.
The handing over of the keys is done in the presence of the holder of the rental contract from 5:00 pm to 8:00 pm in July and August (7:00 pm in low season) and the return of the keys is also done in the presence of the holder of the rental contract from 8:30 am to 10:00 am. No departure is possible no departure is possible at night.
These prices include camper fees, one car, water, electricity, gas. The final cleaning is at your expense (no cleaning package offered).
Discover our pitches and chalets