Cheap camping in Bidart
At the gates of the Pyrénées-Atlantiques, enjoy every moment of your vacation and vibrate to the rhythm of the seaside village of the Basque Country. Between the Atlantic coast and the Pyrenees, it marvellously combines landscape and ocean. Surrounded by the natural heritage and unique architecture of its kind, the region is famous for its famous Basque mountains and its idyllic tourist sites, which for decades still echo the popularity of the village.
Just a few minutes away from this town, you will discover the Pays Basque campsite Ur-Onea***. We welcome you with open arms in a warm and friendly setting by the sea of the Basque coast. By staying at our campsite, we promise an unforgettable stay to our guests, with quality services. And all this, at a reduced rate, which will undoubtedly suit your vacation budget.
Cheap mobile home rental Bidart
Everyone dreams of spending an unforgettable vacation at a lower cost in an extraordinary region rich in history like the Basque Country. Located only 5 km southwest of the big city of Biarritz, the camping Ur-Onea*** promises you an unforgettable vacation. To accommodate you in a comfortable space, we offer a wide range of rental accommodation at a very affordable price. Whether you opt for a mobile home for rent or a chalet, we guarantee you a totally exotic stay in the heart of a distinguished nature. Spacious, our accommodations can accommodate from 4 to 6 people.
If you are looking for a cheap mobile home in the Basque Country for a large family, we offer the "Mobil-home Marina Grand Confort", a quality accommodation. This perfectly equipped model is distinguished by the well-kept design that it displays. Spread over an area of 38 m², you will have three separate bedrooms (which can accommodate up to 6 people), a fitted kitchen, a bathroom, independent toilets and a modern heating system. Enhance your stay by enjoying moments of relaxation on its large terrace. Harmony and conviviality are the key words that will rock you throughout your vacations.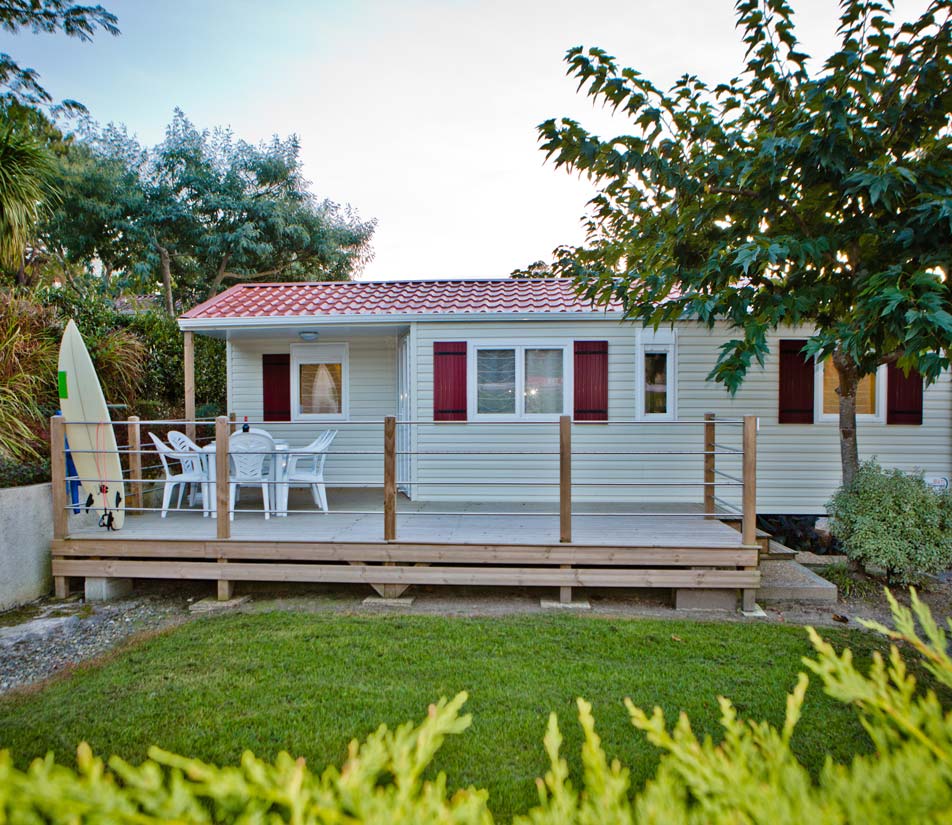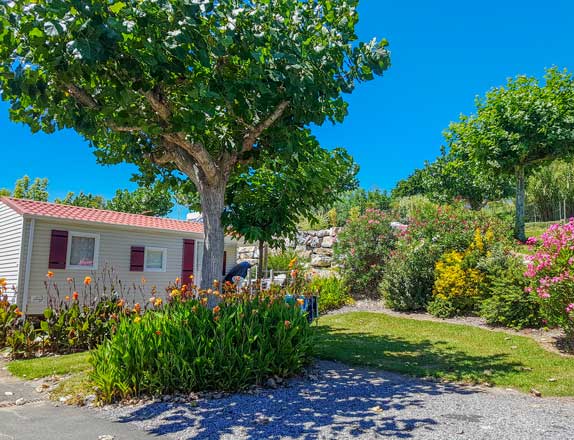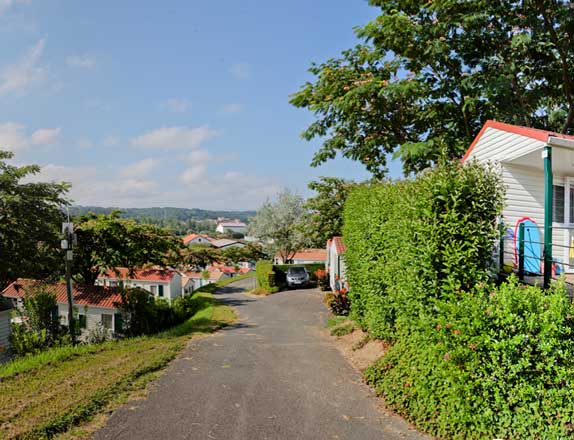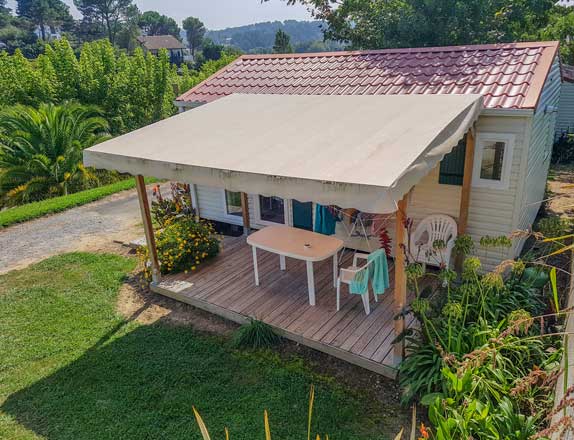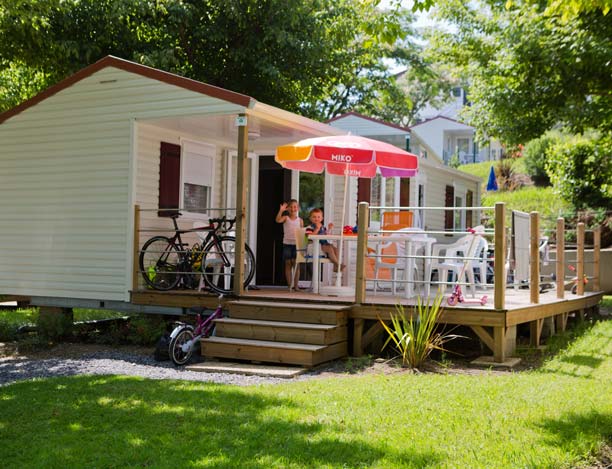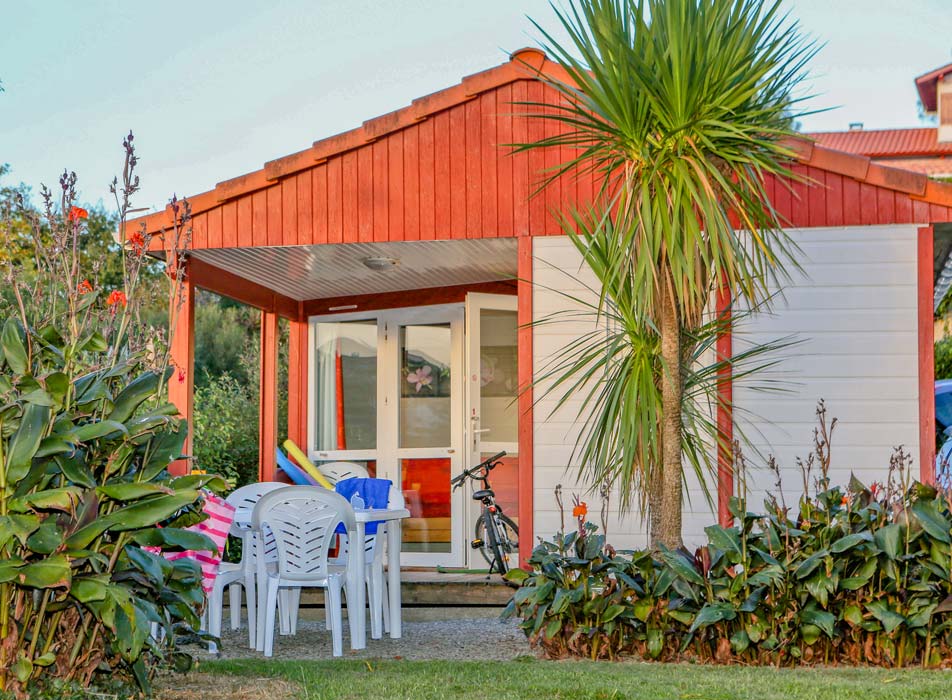 You rather like the warm atmosphere of a chalet? Installed on a 35 m² plot of land, our chalet dream ", proposed at low price, welcomes you in a nice and green setting. You can enjoy a magnificent view of the surroundings from your terrace. For your convenience, our rental chalet has two graceful bedrooms, a kitchen and a shower room with private WC. The whole has a optimal comfort to offer you a restful stay in a quiet area.
By staying in our establishment, couples will be the most satisfied because we have discount rentals specially designed for a romantic stay. Spice up your vacation by choosing from one of our chalets or mobile homes. For a model of 24 m² or 26 m², you will have a large sleeping room, a bathroom with private toilet, a fully equipped kitchen and a beautiful terrace where you can enjoy your moments of intimacy.
Cheap campsite with swimming pool in Bidart
In the heart of the Basque coast, in the Bidart region, we welcome our holidaymakers with joy in the large playful aquatic area of our campsite. Living a dream vacation with your feet in the water is a luxury within everyone's reach. At the open-air hotel Ur-Onea***, we offer you an unforgettable stay at a price adapted to your means. For this, we put at your disposal a large swimming pool of 150 m², covered and heated to 28°C, equipped with a whirlpool area with whirlpools, jacuzzis and a paddling pool for the little ones.
If you prefer to enjoy the sunny baths, we also have an outdoor pool maintained at a pleasant temperature of 25°C, open from May to September. Young and old, you will enjoy moments of pure delight while taking advantage of the various playful areas: lagoon, river against the current, swan neck… Our indoor pool is open from April to September. We also advise you to visit our wellness area Ludi'Spa to enjoy moments of relaxation and tranquility.
For some laughter and fun, go to the water playgrounds on the vast beaches of Bidart, where you will find the distraction. If you are tempted by the tanning sessions, the deckchairs are waiting for you.
By staying in our prestigious campsite, you will also benefit from other fun activities (games room, billiards…), a WIFI coverage and a laundry service. If you have a small hollow or to quench your thirst, our grocery store, our bar and our snack-pizzeria open their doors to you.
Rent our accommodations in Bidart